Order food, collect stamps and save money | Thuisbezorgd.nl
Thuisbezorgd.nl stamp cards
Each of our delivery services has the possibility to offer stamp cards to loyal customers. As soon as you've collected 5 virtual stamps at a participating restaurant, you'll get a discount on your next order, which is 10% of the sum of your 5 previous orders.
How do I collect stamps?
In order to get a stamp you have to meet the following conditions:
Order at a restaurant that is participating in our stamp card programme.
In order to receive stamps, you need to be subscribed to our newsletter.
Within 24 hours after placing your order, you'll receive an email from us, notifying you about your new stamp.
You'll receive an email for every new stamp you've collected, after you've placed a successful order. Any previously earned stamps will also be shown in this email.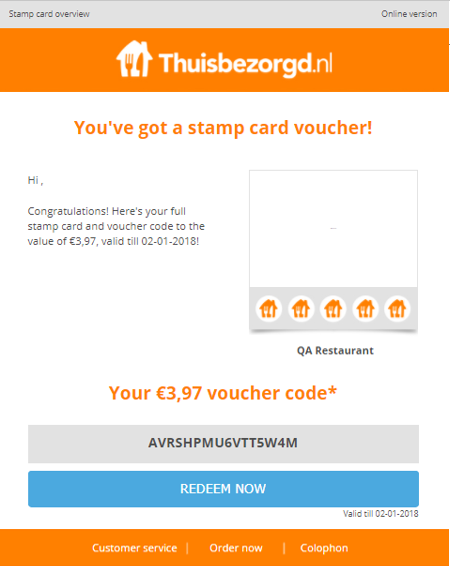 When do I receive my voucher?
As soon as your stamp card is full, you'll get an email with your personal voucher code. Please note:
The voucher is only redeemable at that particular restaurant.
The voucher doesn't have to be redeemed completely within the first order, as it's valid for 90 days.
The minimum order value of the restaurant also applies when redeeming a voucher.
The voucher can only be redeemed using one of the online payment options and can't be combined with other promotions.
What's the value of my voucher?
If you have a full stamp card, you receive a discount on your next order which is 10% of the sum of your 5 previous orders. If you've placed five orders with an order value of € 20 each, you'll get a € 10 discount.
Why didn't I receive a stamp?
This could have different reasons:
The restaurant doesn't participate in the stamp card programme.
Your newly collected stamp landed in your spam folder.
You were unsubscribed from our newsletter.
You ordered using a different email address.
Your order was cancelled.
Additional information
You can keep collecting stamps, even if your stamp card is already full.
If you've collected several stamp cards at one restaurant, you can choose which one you'd like to redeem.
You cannot receive stamps for orders placed in combination with other discounts or promotions.
Stamp cards or single stamps can't be transferred to another person or restaurant.
In your user account you won't find any information about your stamp card - you'll receive all important information via email.
Stamp cards are a loyalty bonus, which are offered by registered restaurants on Thuisbezorgd.nl to their customers. For that reason the restaurants can decide if and how long the program will be offered. If you've already begun collecting stamps for a restaurant that has cancelled the programme, you'll have up to six months to complete your stamp card and redeem it. If a restaurant owner chooses to terminate their collaboration with Thuisbezorgd.nl, you'll have until the end of the contract to redeem your stamp cards. After this time, the stamps and stamp cards of this delivery service will lose their value.